Don't feel like cooking this Thanksgiving? Atlanta has a ton of places where you can eat your Thanksgiving dinner without all the cooking and clean up!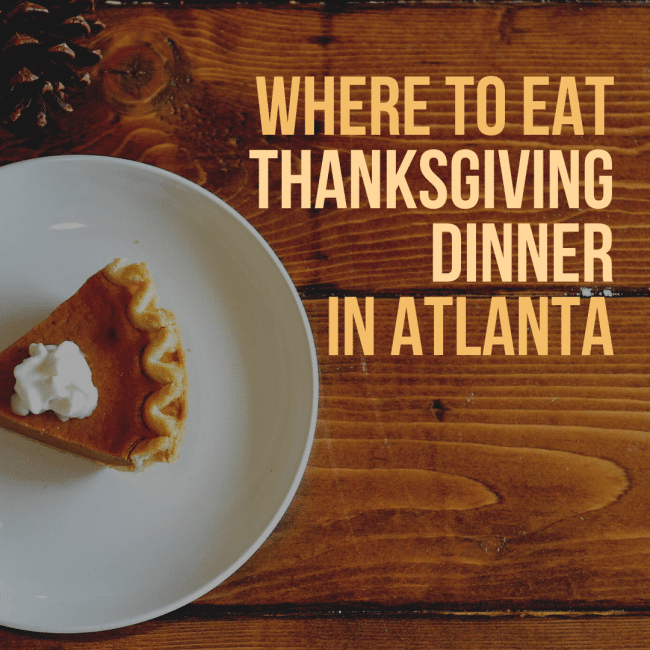 It's that time again…
Y'all! We're at the end of the year already!
As always, the days are long but the years continue to pass by quickly. This time of year is usually very busy and chaotic for the majority of us, so we would like to help decrease the stress a little.
Since Thanksgiving is this week, here are ten restaurants (plus a couple bonuses!) where you can eat Thanksgiving dinner without all the hassle! 

5Church Atlanta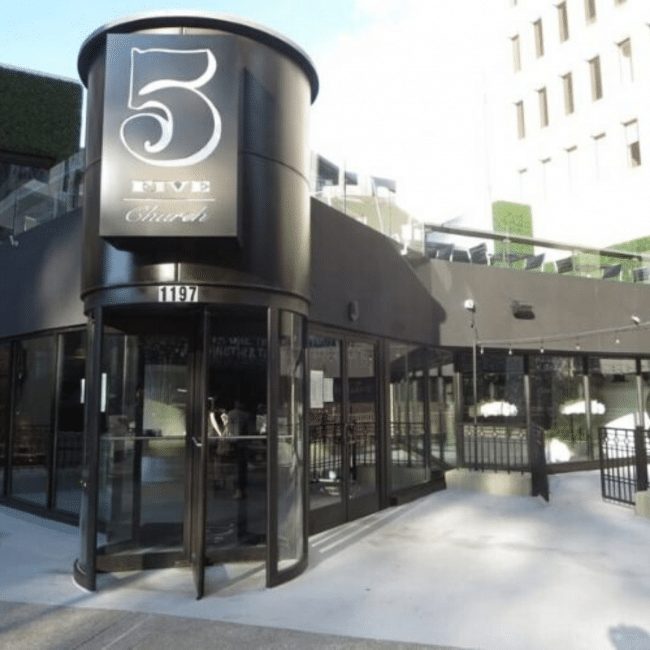 5Church Atlanta is a modern, upscale restaurant with modern decor in midtown. It's become well known for its American cuisine and amazing steaks. 
On Thanksgiving, 5Church will be running a buffet from noon until 8 pm. It will include (but is obviously not limited to) classic dishes such as collard greens, sweet potato casserole, and of course, it wouldn't be complete without their oven-roasted turkey with sage. The buffet is $65 for adults and $23 for children. 
Atkins Park Restaurant and Bar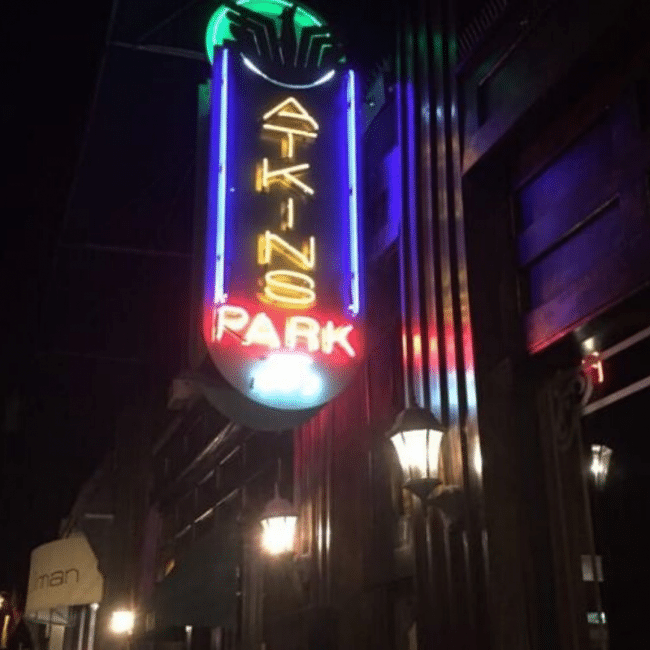 The Virginia Highlands is one of my favorite neighborhoods in all of Atlanta, and in it is Atkins Park Restaurant and Bar. 
On Thanksgiving day their menu will have green bean casserole, smoked turkey breast, braised pork shoulder, garlic mashed potatoes, and sweet potato biscuits. Then to please satisfy your sweet tooth there will be pumpkin cheesecake and pecan pie.
Their full Thanksgiving menu can be found on their website. The price for the holiday dinner is $30 for adults and $10 for kids. Reservations are highly recommended, and dinner starts at 4 pm. 
For reservations, call (404) 876-7249
Fogo De Chao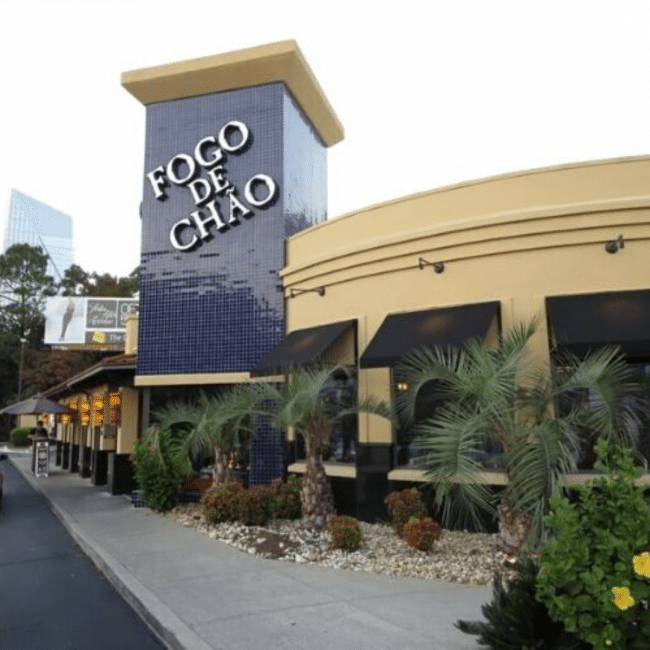 One of the best things about what Fogo De Chao is doing for Thanksgiving is opening at 11 am. Should you choose to dine here, you may even be able to beat the midday and evening rush. 
If you're unfamiliar with this amazingly popular establishment, they are a Brazilian steakhouse that is worth every penny you'll spend there and then some.
If you're looking to do something a bit outside the box for the holiday season, they will not disappoint. Their Thanksgiving day hours are from 11 am – 9 pm.
Bonus for those of you with children: Kids 6 and under eat for free, and children 7-12 will dine for half price! 
The Highlander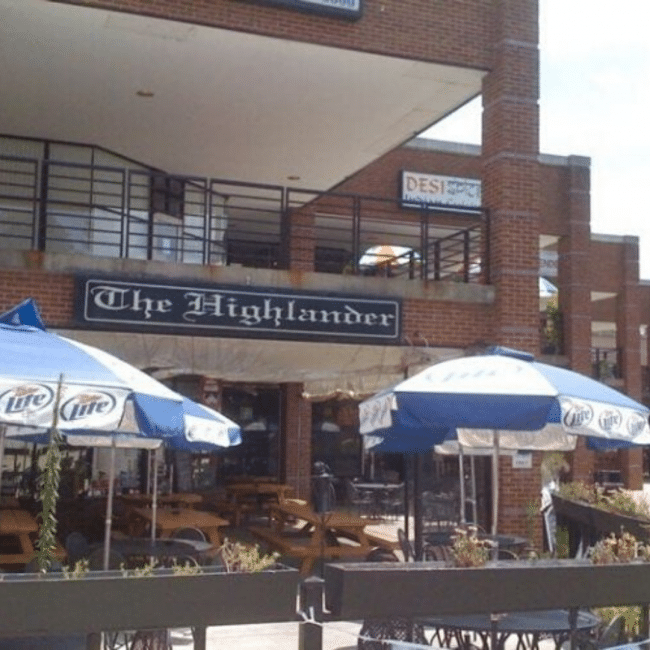 The Highlander is a favorite amongst pubs in Atlanta, and for the 28th year they will be running their regular business hours for Thanksgiving. 
If you're looking for something a little more simple and relaxed this holiday, The Highlander should be a frontrunner for you. They will have their regular menu in addition to their "Thanksgiving Feast", which goes for $25. 
If you want to make a full night out of it and have a few drinks after, they'll be open until 2:30 in the morning. You're probably off work on Black Friday, so you'll be fine!
By the way, this is an adults-only restaurant, so if anyone in your party is under 21, you'll have to look elsewhere.
Hudson Grille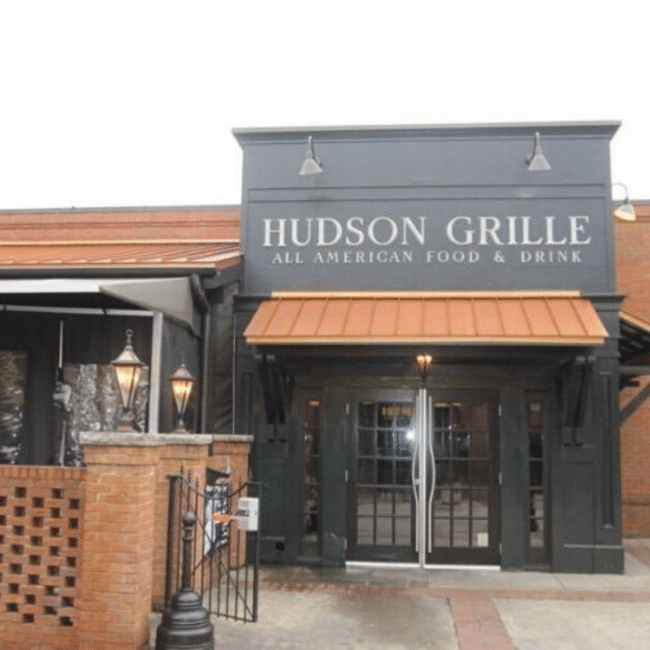 Thanksgiving Day football games are a huge deal, and if you want a good meal and a great view of the game, look no further. 
Hudson Grille is easily one of the best sports bars in Atlanta, and will always be among the first few mentioned when asking locals which ones they frequent. On Thanksgiving, they'll have two special Thanksgiving meals for you, and they're both only $16.95.
There are locations in Midtown, Downtown, Brookhaven, Tucker, North Point, Sandy Springs, and Kennesaw. 
Ruth's Chris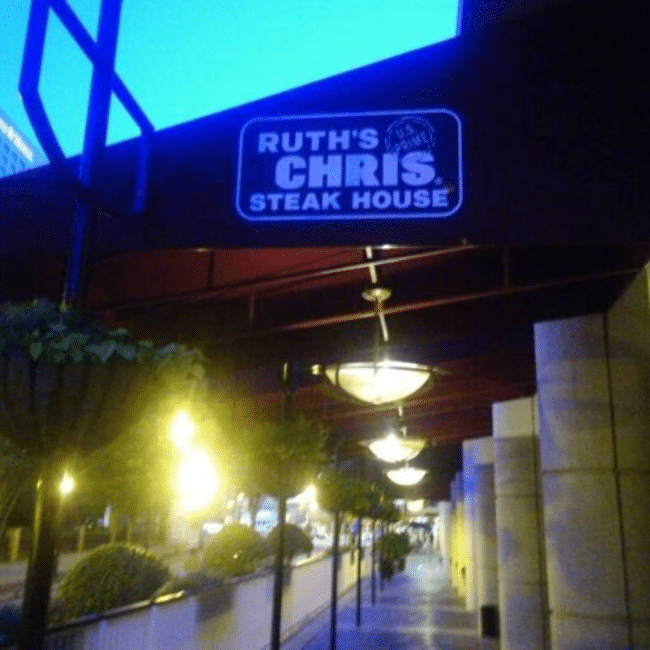 If you've never heard of this gem of a steakhouse, you've been missing out on something special. Whether it's a porterhouse, a petite filet, a T-bone, a New York strip, or bone-in 16oz filet, you'll find it at Ruth's Chris. 
On Thanksgiving, they'll have a menu consisting of traditional holiday dishes that will cost $41.95 for adults and $14.95 for children 10 and under. The menu will feature a turkey plate with choices of sides, along with a dessert and a starter. 
South City Kitchen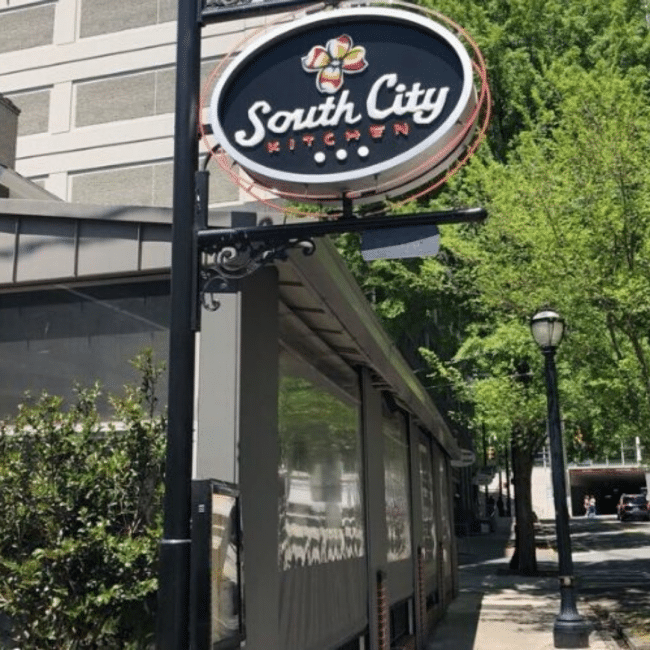 South City specializes in putting modern twists on classic southern dishes. If you're looking for authentic with a little extra swag, you should consider dining here. 
For the holiday, they will offer a three-course menu from 11 am – 8:30 pm. It will cost $30 for children and $60 for adults. The menu will have some classics like turkey and gravy, dressing, and some specific featured items based on location. 
There are 3 different locations: Buckhead, Vinings, and Avalon.
Ted's Montana Grill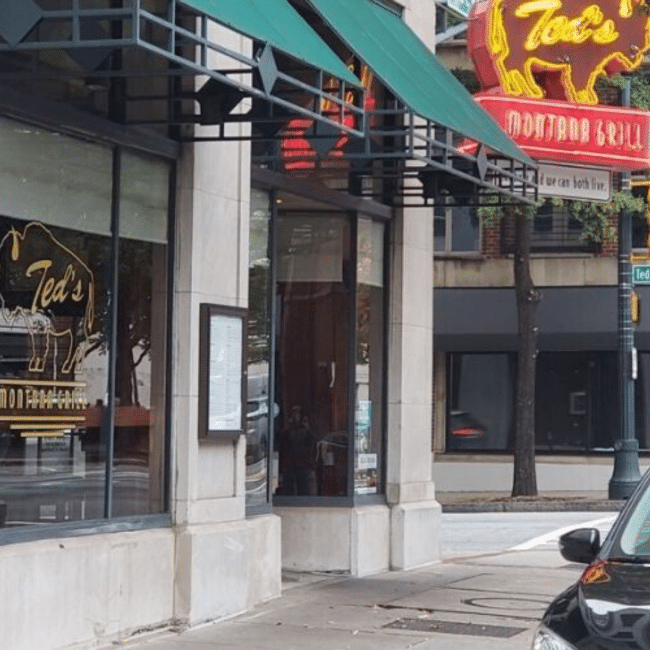 Media mogul Ted Turner co-founded this classic American-style restaurant back in 2002, and it's had a non-stop buzz around the city ever since. 
On Thanksgiving, their menu will include their $29 turkey feast (which includes chili/soup/salad to start, roasted turkey and gravy with sides, and apple crisp), burgers, a kids menu, different entrees, and a selection of desserts among other things. 
Each store location has specific hours, and those locations include Decatur, Midtown, Downtown, Lawrenceville, 2 in Marietta, Cumberland, and a few others. 
You'll definitely want to call and make a reservation! The different locations and phone numbers are at the bottom of the Thanksgiving Menu. 
STK Steakhouse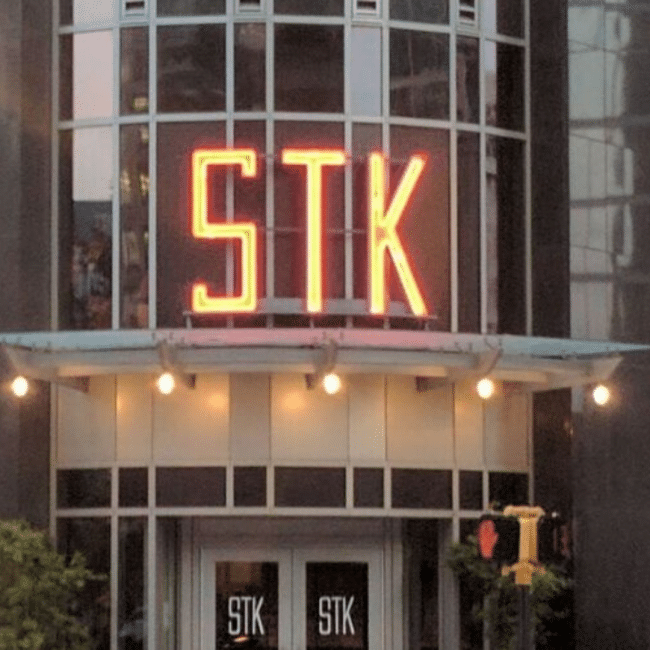 STK is another upscale, modern restaurant with great decor. You step into this place and you'll be wowed by everything from top to bottom, it's just a beautiful restaurant with a great vibe. 
For Thanksgiving, they will offer their regular menu, a kids menu, and a holiday menu with turkey, stuffing, green beans, cranberry orange chutney with a few other options. The holiday menu goes for $42 for adults and $16 for children. 
They'll be open on Thanksgiving from noon until 10 pm. 
Petite Violette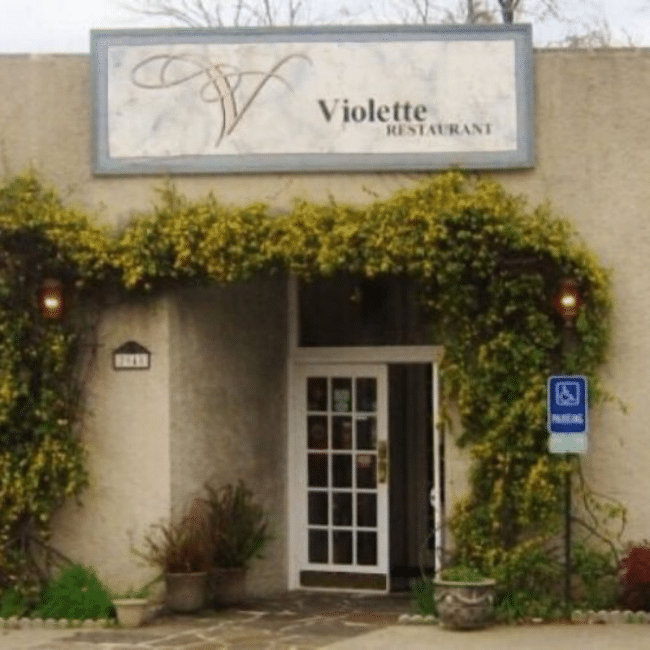 If you're looking for a European experience, why not get your French on at Petite Violette?
From 11:30 am – 6:30 pm, they have a special holiday menu which will include a turkey, short rib, turkey gumbo, and sweet potato souffle just to name a few. The price is $47.96 per person, and they will be very busy! You'll definitely want to make a reservation!
Other places to eat Thanksgiving dinner
In addition to the list provided above, if you're someone that wants to just go hang at a restaurant and chow down on non-Thanksgiving dishes, you have options too! New York Prime, and Taco Mac are just two of the places you can find that will be open for the holiday but serving their usual menu. 
So if you just want to watch some football and munch on some wings and fries, the good ole A.T.L has you covered too! 
Skip the dishes!
If you're dreading all the cooking and washing that comes with Thanksgiving, give one of these restaurants a try! Make sure to reserve your spot, as they'll all be very busy!
Happy Thanksgiving, everyone!
Leave us a message in the comments and tell us your favorite Thanksgiving Day restaurant!