We Make Owning Short Term Rentals Easy.
We're an elite short term rental company based in Atlanta, Georgia who loves to help our clients create more value with their investment. Want to work together?
Learn more
Contact Us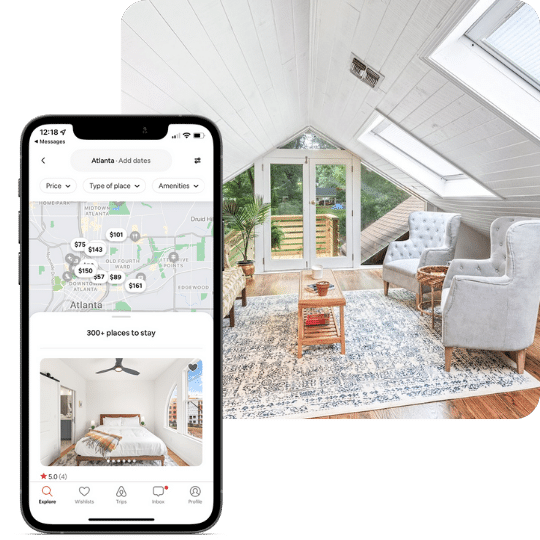 Management Services & Consulting
Let us make your short-term rental life easier. Here's how we can help: 
Atlanta Licensing Expediting
Listing Consultation
Not sure where to start? Need advice on a problem? Just want to talk to a professional? Let us help! Get an in-depth consultation on everything that's working (or not) in your Airbnb. 
Cost: $500
New Listing Startup Package
Let us take care of getting your listing ready. We'll consult on your space, help design the listing, get you licensed, bring in our photographer, and hold your hand through the first month of your launch. Peace of mind!
Cost: Starts at $3000
Or Choose Full Management
When you choose to work with Atlanta Airbnbs, we take care of everything. Here's how it works
Full Listing Launch
From getting professional photography and purchasing furnishing to designing and marketing your new listing on Airbnb, VRBO, and other sites and even getting your Atlanta STR license, we will get your rental ready for guests. 
Five Star Guest Services
We will communicate with your guests 24 hours a day, 7 days a week, giving them a five star host experience. We will also manage cleans and flips to make sure your guests enjoy a perfect stay. Also, if something goes wrong, we'll manage the insurance claim.
Property Repair & Maintenance
You don't want to have to worry about wear and tear on your property. From mowing the lawn to spraying for bugs we will work with our team of contractors to keep your property in good shape manage the upkeep.your property's
That's not all though. Here's what else we do for you.
Manage Listings Online
We keep your listing current. We monitor the calendar daily to make sure you're getting bookings.
Personalized Guest Experiences
We have a collection of local businesses we partner with to create unforgettable experiences for our guests, leaving you with higher reviews and higher return from guests.
Marketing
We market you outside of just Airbnb, including through social media and direct bookings. Create a sustainable business beyond just one source.
Navigate Local Regulations
Let's Start Creating More Value for You.
 Questions? Let's start talking. Even if you're not ready to turn your property into a vacation rental right now, we can help you plan for the future. Please fill out the form below and we'll be in touch soon!