Whether you're looking to get your morning started or to reinvigorate your late afternoon, here are some of the best coffee shops in Atlanta (which happen to be in some of our most historic neighborhoods!):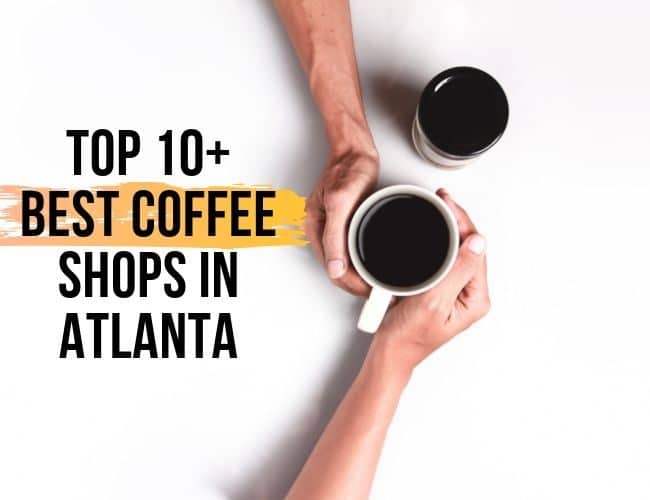 The Best Coffee Shops in Atlanta
When you come to Atlanta, whether for a visit or an extended stay, one thing you are guaranteed is a strong dose of southern charm.
You'll find it everywhere, from the fanciest of restaurants, to the most casual of our city parks, and especially in our increasingly popular coffee shops.
Coffee is a key point of connection in our city, so we've gathered the top 12 best coffee shops in Atlanta for your sipping pleasure. Enjoy!
Dancing Goats Coffee Bar – Old 4th Ward
In the Historic Old 4th Ward district, just as you're clearing the residential area on North Avenue, you will find Dancing Goats Coffee Bar.
The lay out of this coffee shop is perfect. They have a smaller, cozy indoor space for the introverts among us, and a large outdoor space that is great if you want some fresh air.
The staff is amazingly friendly, and they are located right next to Ponce City Market, and just a stone's throw away from Midtown.
Octane – West Midtown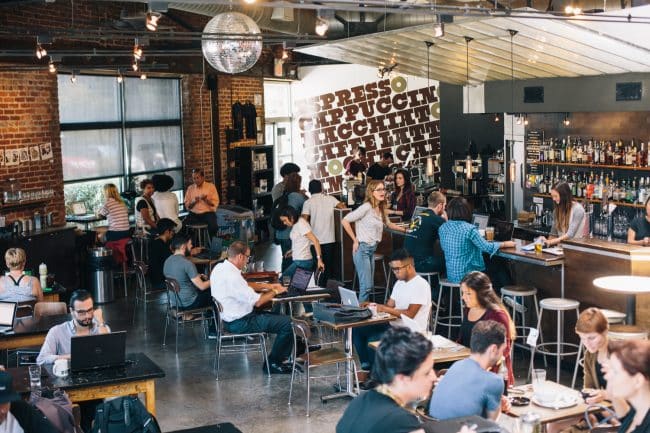 With locations in Grant Park, West Midtown, Buckhead, and inside the Woodruff Arts Center Octane uses local products to make up their menu of coffee, tea, craft beers, cocktails, breakfast, brunch, lunch, and dessert items.
Octane is for everyone whether it is bright and early before heading to work, or those in need of a happy hour spot after a completing a long day at the office.
Grant Park Coffeehouse/Revelator/Community Grounds – Grant Park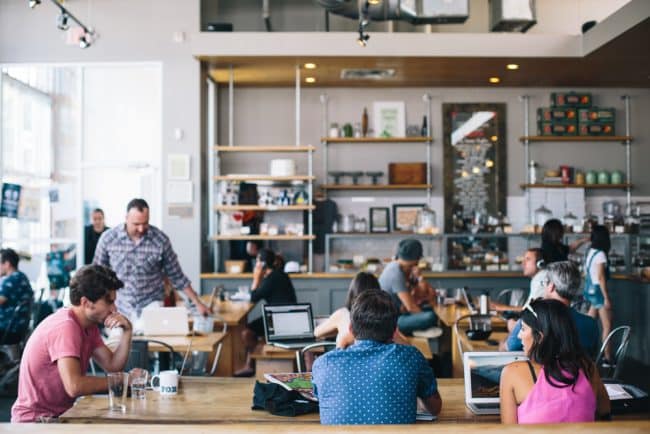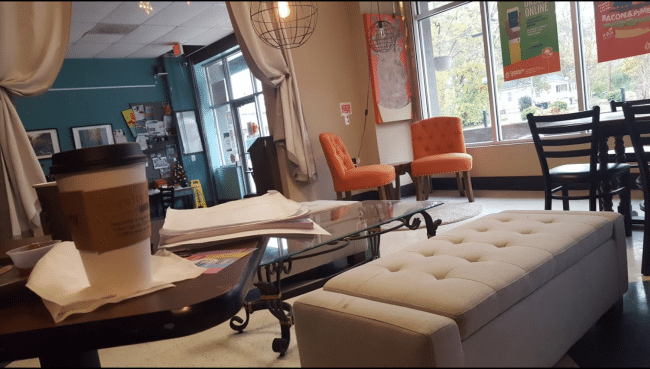 Venturing into the neighborhood of Grant Park which is becoming one of the most targeted areas to settle down in, you will find 3 absolute gems: Grant Park Coffeehouse, Relevator Coffee, and Community Grounds.
Revelator's trendy setting and fast paced vibe will satisfy the more energetic of us, while Grant Park Coffeehouse and Community Grounds are much more suited to those of us looking to relax a bit.
If you're a savvy woman looking to connect with other like minded women, I strongly suggest Grant Park Coffeehouse's "Savvy Women Connection", and if you're a performing artist of any sort, Community Grounds holds some of the best open mic nights you'll find anywhere.
Brother Moto – Grant Park
There's a street called Memorial Drive that runs through a lot of Grant Park and on it you can find one of the dopest coffee shops I've ever seen: Brother Moto.
Brother Moto combines a coffee shop, D.I.Y garage, and motorcycle goods store in one. Yep, you read that correctly!
If you leave Atlanta without experiencing the uniqueness that can be found here, you're doing yourself a massive disservice.
Buteco – Grant Park
Our last stop in Grant Park is at the Brazilian-inspired Buteco Coffee and Bar. Here you can find a great selection of coffee, tea, beer, wine, and Brazilian street food.
If you're feeling creative join them for their open mic nights on Tuesdays thru August.
You can also enjoy their house Samba band early in July, and they have several other musical acts in the upcoming weeks. There's definitely something for everyone here.
Taproom – Kirkwood
The Kirkwood neighborhood, which sits right between East Lake and Edgewood, is home to Taproom Coffee and Beer.
I love how true to Atlanta Taproom is. The majority of the coffee and beer they provide comes from companies based right here in our backyard.
They have a great space for events, or just your normal catch-up, and they give you the opportunity to enjoy a cup of coffee and a delicious adult beverage in the same place. What more could you ask for?
Gilly Brew Bar – Stone Mountain
Atlanta's east side is home to an area called Stone Mountain, there you will find my personal favorite, Gilly Brew Bar.
Gilly, named after the owner's grandfather, is housed inside what used to be the governor's mansion and its hardwood floors with its white exterior is the definition of southern charm.
The menu is one of the most creative you'll ever find, and if you're free on the first Saturday of every month, "Bars behind the Bar" is not to be missed.
Refuge Coffee – Clarkston
Heading just a bit west from Stone Mountain is the Clarkston neighborhood which just so happens to be the home of the largest refugee population in the state of Georgia.
It's also the home of Refuge Coffee Shop. Refuge was created so that refugees in our city would have one less worry while trying to build their lives here. They are the ones running the joint, and they make some damn good coffee!
Hodepodge Coffee – Reynoldstown
One of the main streets in Atlanta is called Moreland Avenue, and in addition to one of the most popular and diverse areas in our city called Little Five Points, on this street you can find Hodgepodge Coffee.
This shop is for coffee lovers and art enthusiasts alike. You can enjoy your coffee while checking out the amazing art galleries or the dope spoken word artists.
Drip Coffee Shop – Hapeville
When your tour of Atlanta is done and you're heading back to the airport to return home, the best way to calm your nerves before the busyness of Hartsfield-Jackson slaps you in the face is to stop by the Hapeville location of Drip Coffee Shop.
It's the perfect calm before the storm, and even boasts a pretty solid breakfast and lunch menu.
Need a dose of java? Hit up one of the best coffee shops in Atlanta today!
We could all use a little pick-me-up every once in a while. The next time you're in Atlanta, make sure to give one of these coffee shops a try!
How about you? What is your favorite coffee shop in Atlanta? Let us know in the comments.